Meet Atlas — the Creator Empowerment Platform for Splunk.
Atlas shows the way on your journey creating powerful analytics and data visualizations on the Splunk platform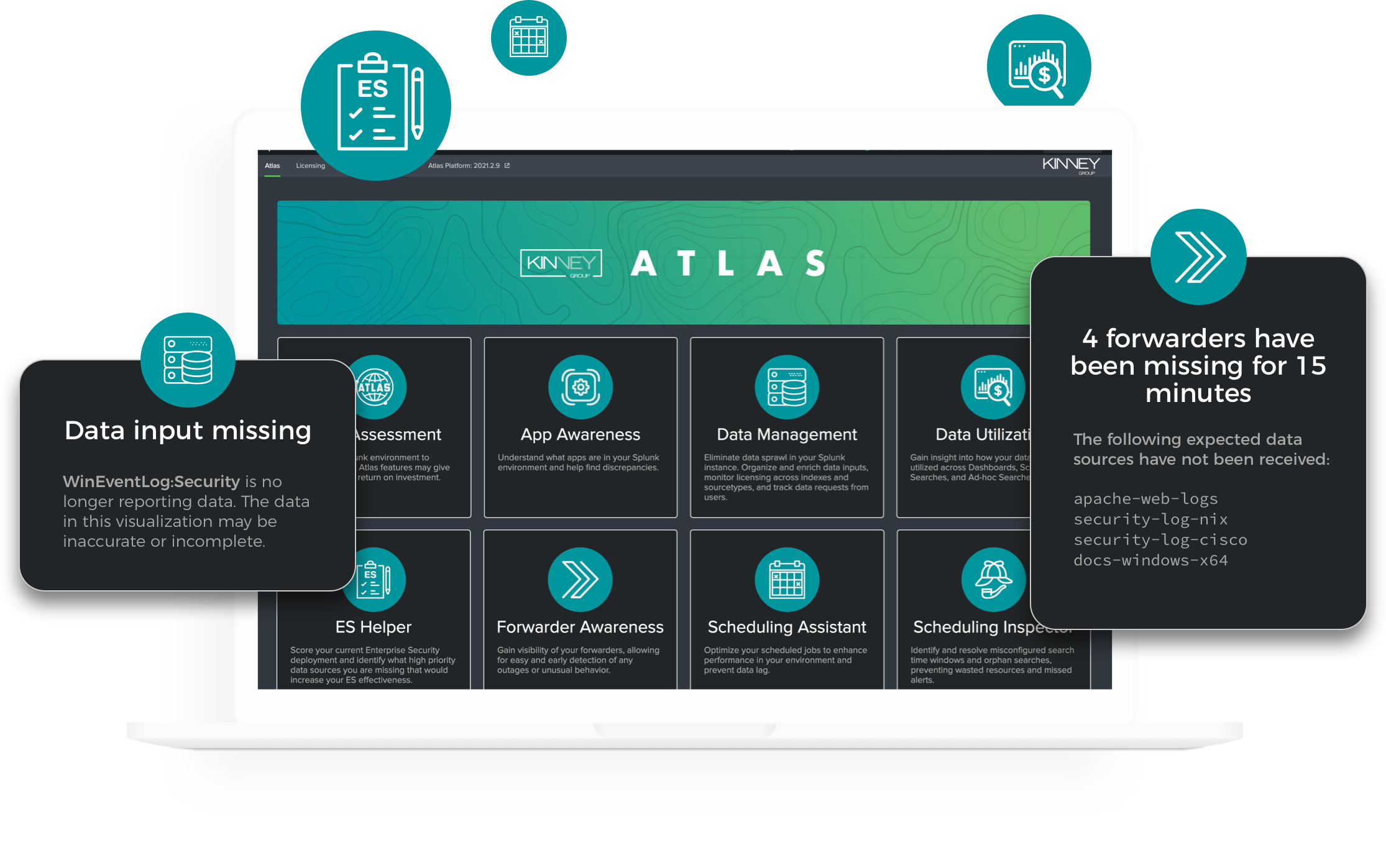 Atlas – the Creator Empowerment Platform — enables a new experience with Splunk technologies that guides analysts, engineers, admins, and end-users in their journeys to create incredible insights for security, IT operations, and observability. The platform includes revolutionary datacenter architectures, personal guidance and support, and a collection of applications and utilities that provide powerful insights, instantly. The platform's components bring new, innovative solutions to the Splunk community and enable scalable, consistent success.
At the center of the experience is a suite of transformative applications that revolutionize how you work in Splunk:
Make search a breeze
The Atlas Search Library comes with dozens of pre-configured searches you can launch with the push of a button. Or save your own and save hours of admin to-dos.
Manage Data
Eliminate data sprawl, get alerts on data inputs, and know what data is being used in your environment with the Data Management application.
Simplify Compliance
Take the pain out of STIG compliance with this powerful application that harnesses automation and the power of Splunk to reduce hours (or days) of effort into a few button presses.
Improve Adoption
Atlas simplifies processes like data requests by providing users with an easy way to request data, and admins a single pane of glass to review and execute requests.
Scheduled Searches
Are you getting the best results from scheduled searches? Are concurrency issues slowing your environment? Atlas applications provide time (and cost) saving insights.
Hundreds of organizations, large and small, trust Kinney Group to deliver superior results.
Every Atlas subscription includes on-demand support.
Expertise on Demand (EOD), the support component of the Atlas platform, provides access to Splunk experts via a set amount of hours each month, consumable in increments as small as 15 minutes. EOD provides customers with immediate access to expert assistance with (but not limited to):
Splunk dashboards, reports, data models, and custom use cases
Best practices for design, implementation, and operation of Splunk
Knowledge transfer of Splunk platform expertise to aid your engineering teams for  troubleshooting, advanced Q&A, and other best practices
It's the support resource you need, whenever you need it most. Backed by the best team of Splunk-certified professionals available.