If there was a secret sauce for Splunk, the key ingredient would be the platform's forwarders. Providing users with the ability to automatically send data for indexing, Splunk forwarders are essential to data delivery in Splunk Enterprise and Splunk Cloud environments.
In most Splunk instances, you have multiple, if not hundreds, sometimes even thousands of, forwarders. These forwarders throw data at your search heads and indexers in order to read and store your data. However, there has historically been an issue with forwarders: they can silently drop dead.
If you're looking at your data pipeline in Splunk, your forwarders are on the front line. Forwarders play a pivotal role in ingesting your data; however, they can disappear or unexpectedly fail without you knowing. A missing forwarder may result in an issue as small as temporarily not ingesting data or as large as a dashboard or alert missing key information for weeks.
To solve this time-old problem in Splunk, we've built an application within Atlas, our platform for Splunk, that allows you to have eyes on all of your forwarders in one place.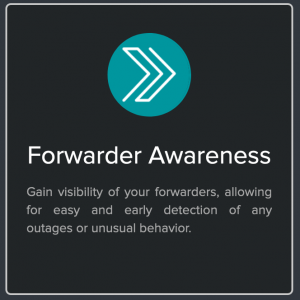 Atlas' Forwarder Awareness Application
Atlas Forwarder Awareness is an application that provides visibility into all of your forwarders, their statuses, and any misconfigurations or failures within your environment. Built within the Atlas Application Suite, the Forwarder Awareness tool enables teams to have constant visibility into their forwarders' health and statuses.
Now teams can quickly determine if a forwarder is missing and take action—immediately.
A Birds' Eye View of Your Ecosystem
Atlas Forwarder Awareness brings the Atlas touch to your Splunk and Infrastructure by empowering Admins to quickly group together forwarders by context or server classes. This means that Admins can quickly identify if a critical forwarder is down from the Forwarder Group overview, and further investigate with ease.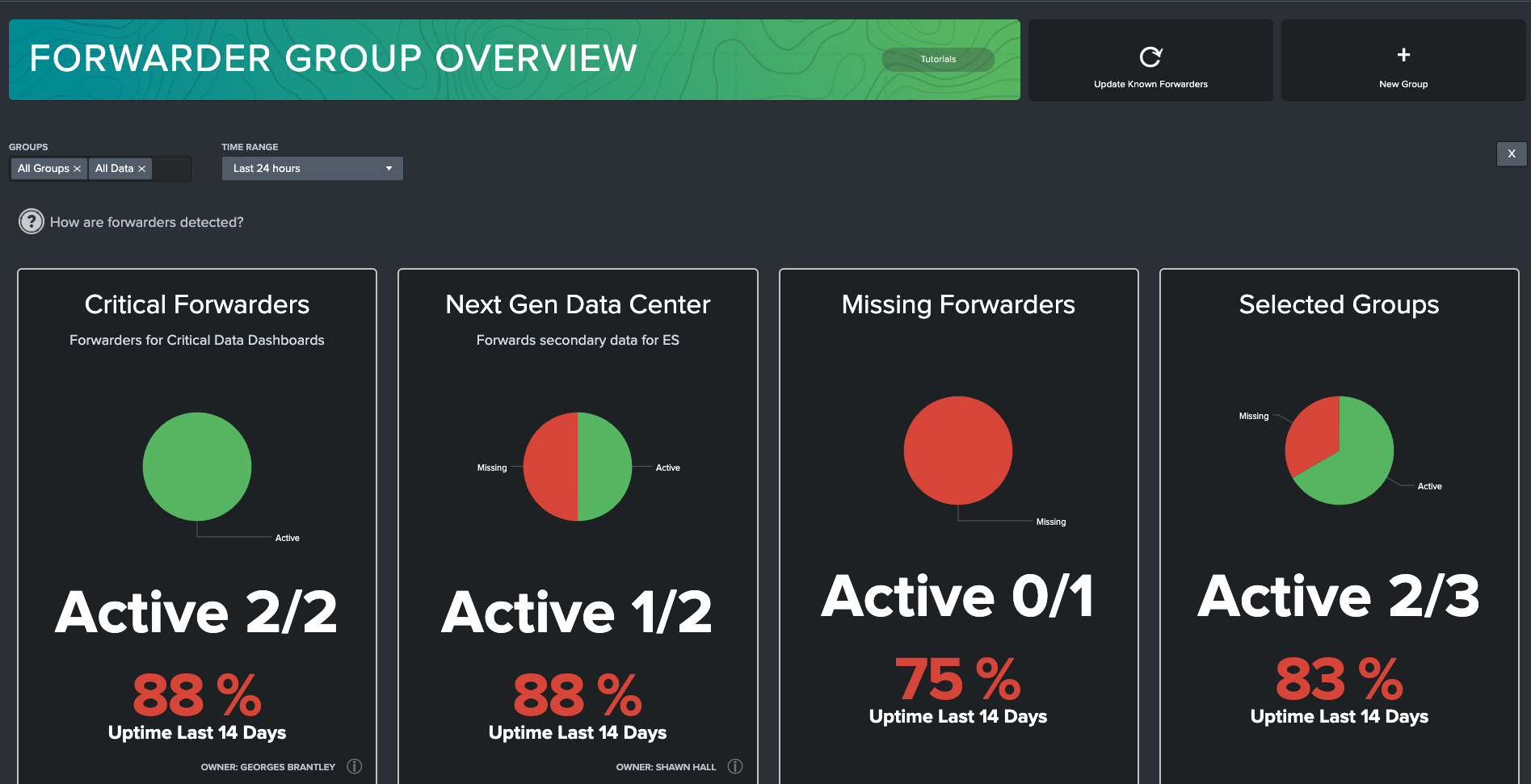 By giving this overview, Admins won't be swamped with false positives or low priorities but will receive actionable information with the appropriate context. Furthermore, Atlas's automation also tracks uptime on a per Forwarder basis, enabling Admins to identify problematic data streams.
Forwarder Awareness also comes pre-packaged with Alerts that can quickly inform Admins and Group Owners of failures in their critical systems, ensuring fast turnaround time for fixing issues.
Selecting one of these tiles enables Admins to drill down further into the Forwarder Report.
A Clear Dive
On the Forwarder Report, the Admin gets a heads-up display of the most actionable items related to Forwarders. Version, SSL status, throughput, receiver count, uptime, status and more! This enables Admins to understand what action times they need to take, while applying the group filter from the previous page.

Selecting a Forwarder offers a deeper dive into ingest of sourcetypes and throughput over time, while also outlining what sourcetypes the forwarder is responsible for. In fact, the entire Forwarder Awareness Element enables users to search by sourcetype, enabling users to quickly see the status of all forwarders tied to particular outcomes!

Conclusion
Every Splunk instance is at risk of a failed or missing forwarder. With your forwarders being at the front line of your data pipeline, it's essential to have eyes on them at all times. With Atlas's Forwarder Awareness Application, you have the visibility you need, and visibility you won't find anywhere else. Paired with built-in alerting, Splunk Admins powered by Atlas will have all the tools necessary to make the most robust Splunk system out there!
This is just a glimpse into the power of the Atlas platform, which empowers all Splunk creators to be successful. If you'd like to learn more about the Atlas Platform, let us know in the form below.