Throughout my recruiting career, I've been primarily sourcing, screening, and networking with candidates in the technical field.  I've worked with .NET developers, web developers, systems administrators, desktop and helpdesk support, network administrators, and more.  All of these individuals have a very unique language deriving from their respective careers that were learned over years.  Through different conversations, interviews, and networking events you really start to pick up on the lingo and what different technical terms mean; which helps me determine which candidates are knowledgeable and which candidates are just giving me surface-level answers.
Given all that has gone on in the world currently, I've had to learn a number of different "languages" in different recruiting positions within the last 12-18 months.  I've learned and used many tools that helped progress my expertise in the recruiting space. I'd love to share these tips with you.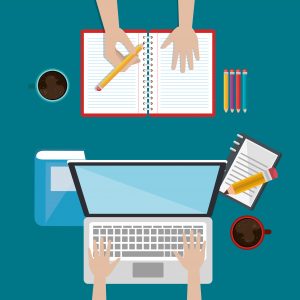 Teaching an Old Dog New Tricks
The best way to learn different technical languages, specific positions and different industry lingo is to talk to as many people as possible.  I have to be frank here for a second – all of the new technical languages were a little overwhelming when I started here at KGI. Everyone has to ramp into these new environments, so here are a couple of practices that can help:
Interviews are Learning Opportunities
Completing a lot of interviews with candidates who may or may not be qualified is good. But you should also use those conversations to learn more about their specific experience, details of job duties, and language that may differ from other environments.
Learn From Your Technical Talent
A great resource is utilizing our own colleagues and technical consultants as learning tools.  These individuals make themselves readily available to talk to and give more detail about their past experiences, current skill set, and job details they execute for Kinney Group.  This has been a HUGE help for me in terms of learning about Splunk, data analytics, and the different certifications and security clearances that are required.
The Secret to Security Clearances
Speaking of security clearances… this has been another great learning curve moving into a governmental talent acquisition opportunity.  From the outside looking in, you don't ever think about how high-security clearance levels go.
Lean on Your Experts
A great aspect about Kinney Group is that our very own Facility Security Officer, Casie Nolan. Having a person whose specific job is to know each security clearance, how much it takes that security clearance, and how long the process will be to obtain that security clearance is incredibly helpful.  She talks to candidates and knows what qualifications a potential candidate should have – and when a candidate gives her their current security clearance, she's able to verify the accuracy, quickly.
This is a tricky area for most recruiters, as recruiting cleared resources can be complicated. If you don't have a direct work resource to lean on, reach out to your network for guidance.
To Sum It Up: Be a Sponge
When working with different companies and industries, be a sponge.  Soak up every bit of information and talk to as many expert level people in that field as possible.  Lastly, the best way to learn is to get uncomfortable and just jump in the pool with both feet, survive initially, and then excel!
Being in the recruiting world within tech comes with incredible opportunities for growth and learning. I hope you could take some practical tips back to your own organizations.