As part of our onboarding process at Kinney Group, we provide each colleague with a copy of The Advantage, by Pat Lencioni. You can read an Executive Summary of the best-selling book online. The book helps us to provide a shared language, establishes a starting point to discuss expectations, and defines the role each new team member plays in team and overall organizational health.
I have worked in two organizations who use this model as the basis for team health and Kinney Group has surpassed my expectations in getting colleagues and leaders to focus on organizational health as a key objective of the business. From annual defining objectives to stand-up meetings around the office, colleagues understand from Day 1 that we are committed to the model and believe in the outcomes. The hallmark of a successful implementation of this, or any organizational model, is a cohesive Leadership Team who will support the approach and help drive teammates and colleagues to adoption and integration.
Of course, there are objections and we fall back on the Lencioni team model to address them. The pyramid below is a model which builds from the bottom-up for any team. Teams must trust one another to engage in healthy conflict. As teams get comfortable debating issues and decisions, ultimately, they need to commit to decisions and there are many options laid out in the book to create shared language around those commitments. As teams master the bottom of the pyramid, they move into the hardest section (in our experience): accountability. Accountability cannot be a leader-only activity. Healthy teams will hold one another accountable, often in public settings, to address teammates who have failed to hold commitments, do not engage in conflict, or have begun to erode trust within the team. When a team is firing on all cylinders and consistently applying this model, results are inevitable.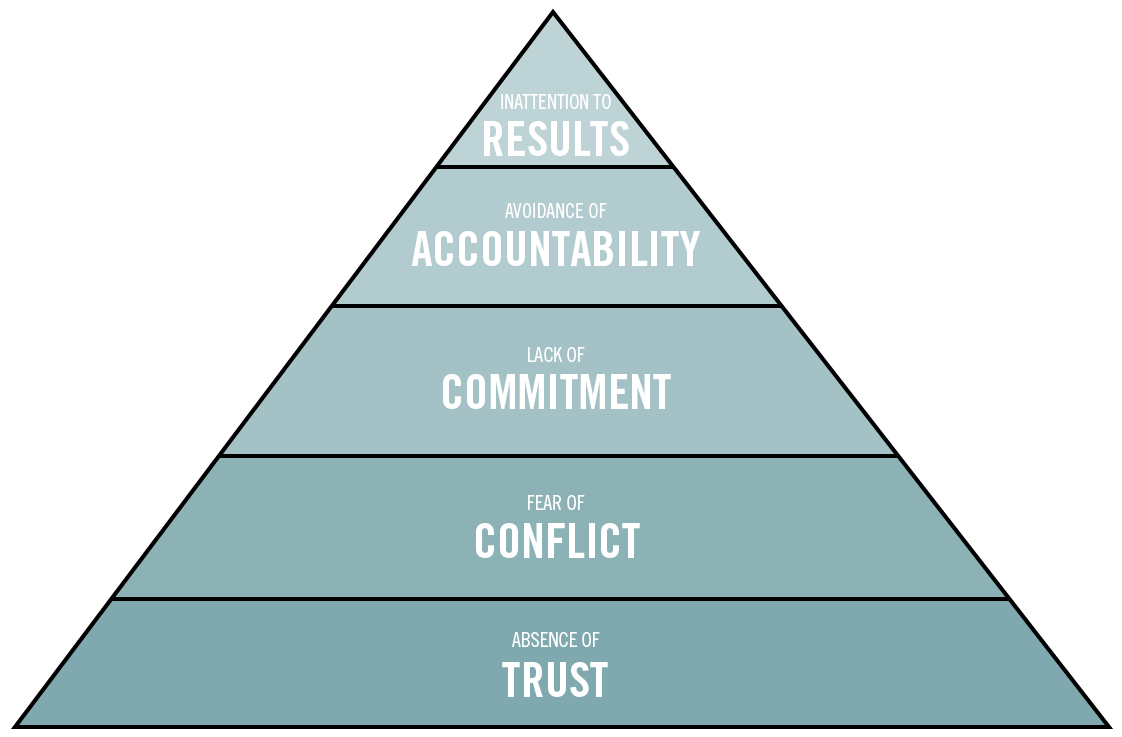 Rather than our People Operations team 'selling' the model, we rely on teammates to engage and hold one another accountable to the results-driven model. A recent new hire on Day 3 at stand-up said, "There are just so many meetings. I've got to get out of some of these so I can get stuff done." I personally witnessed three different people pull the new colleague aside and talk through what could be gained by improving the effectiveness of the meetings and ensuring teams held to the appropriate topics and timeframes associated with each meeting type: daily stand-ups, tactical, strategic, ad hoc, and quarterly meetings.
If you are not familiar with Lencioni's meeting model, you likely just read the paragraph above and thought, "I'm with the new guy, that's a lot of meetings!". In reality, if the model is applied appropriately within teams, issues will be resolved more quickly and teams can move toward tangible results within days, not weeks or months. An investment of 10% of a colleague's time per team (most colleagues are on one team and most managers sit on 2 teams), is well worth the commitment to create clarity on expectations and drive toward goal achievement seamlessly. This meeting commitment is best described in Lencioni's follow-up best-seller, Death by Meeting.
There are many aspects of The Advantage which help drive organizational health for Kinney Group. This review only scratches the surface of two key components: effective meetings and the team health pyramid. In future blogs, I'll share additional examples of our focus and rewards from engaging with this model.
If you are looking to get started with the model, I recommend working with a certified consulting firm who can provide an outsider's view and coaching expertise to kick off in the right direction and create a culture of vulnerability-based trust within your Leadership team.
Want to work at Kinney Group? Check out our careers page to see job postings.