Accommodating scale is an ever-present struggle for IT teams and data center operators — providing sufficient infrastructure to facilitate more demanding requirements such as increasing compute, storage, and network needs. Complexities introduced by Splunk's specialized data ingest requirements only make the situation more challenging (not to mention costly).
The true benefit of scaling is realized not just when future growth is enabled, but when front-end requirements can be met with less hardware, expense, and footprint. Scaling only matters if you can grow from a reasonable starting point. The Kinney Group PureStorage Reference Design empowers users to achieve better performance at scale from their Splunk environment while requiring 75% less hardware.
Managing growth requires systems and strategies that cost-effectively and efficiently support scale. While traditional data center models rely on prohibitive infrastructure requirements in order to scale (square footage requirements, ballooning engineering and operational costs, and a never-ending list of hardware requirements and purchases), FlashBlade® allows incredible scaling in a smaller form factor. Cloud infrastructure provides great scaling, but growing out an existing Splunk cloud architecture is costly, complex, and operationally challenging. The Kinney Group PureStorage Reference Design is a powerful and elegant solution that enables data centers and Splunk solutions to "grow in place."
The Power of Virtualized Scaling
Splunk excels at extracting hidden value from ever-growing Machine Data. This workload, however, requires massive storage capacity, so infrastructure needs to be flexible and scalable, while also providing a linear performance increase alongside that scaling. Simply put, more data means more storage and computing power needs.
While the traditional approach of using physical servers for deployment is certainly an option, utilizing virtual machines on scalable hardware solutions allows you to save time, space, and budget while being able to scale and grow "on the fly" as required.
Typical Splunk deployments utilize a handful of components at their core — Forwarders, Indexers, and Search Heads. Forwarders collect and forward data (lightweight, not very resource intensive). Indexers store and retrieve data from storage, making them CPU and disk I/O dependent. Search Heads then search for information across the various indexers, and are usually CPU and memory intensive.
By properly utilizing virtual machines, the Kinney Group PureStorage Reference Design allows users to scale resources to match the increasing demands of these components.
Physical Scaling that Doesn't Grind Operations to a Halt
Modern data centers are looking less and less like giant warehouses of server racks and becoming more distributed, but the basics of traditional data center growth have experienced little disruption, depending heavily on increasing the number of servers, racks, electrical distribution, and space required to accommodate growth.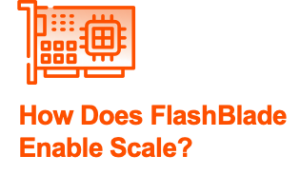 Utilizing PureStorage FlashBlade® enables cloud-like simplicity and agility with consistent high performance and control. The primary way FlashBlade® enables growth in place scale is by allowing massive physical expansion in a single chassis by adding "blades," each of which increases capacity and performance without requiring an ever-growing footprint. Rather than shutting down data center operations to scale out by adding new servers and bringing them online alongside existing infrastructure, the FlashBlade® solution allows users to grow in place. PureStorage FlashBlade® provides up to 792 Terabytes of raw storage in a single 4 rack unit (RU) chassis. Storage is further optimized by using SmartStore, which removes the need for indexer replication (typically a factor of 2 for all data). The total system can grow to ten chassis. FlashBlade® also supports in-service hardware and software updates, so scaling up and scaling out won't interrupt operations.
Meet Any Compliance Requirement with Unlimited Scaling
Splunk SmartStore makes the daunting task of data retention simple for organizations that have compliance or organizational obligations to retain data. This PureStorage architecture supports up to 10 FlashBlade® chassis, potentially representing years of data even for high-ingest systems.
Modernize Your Splunk Environment
We gave you a taste of the power backing the reference design model and how it can modernize your Splunk environment. Now, it's time to download your copy and access the full document of information instantly. Within the reference design, we'll dig deeper into the 3 Key Benefits of utilizing the reference design in modernizing your Splunk operations and dive into the technology supporting the findings. Download your copy of the white paper here.