"A day without learning is a day wasted. There is so much to learn and so little time to learn it."
– Sir John Templeton
It happens all too often where I'm sitting down focused on my to-do list, and… WHAM! I get hit with a curveball: researching new technology, working with an unfamiliar client, or communicating to a diverse audience.  As a scale-up tech firm, Kinney Group is selling more services and products all the time, making it is impossible NOT to learn something new every single day. That's the beauty of it. I can confidently say that I'm learning and gaining skills that will further my career every day I come to work.
Does that sound like something you might be interested in?
Working at Kinney Group
In order to function at a fast-paced tech company, you need to work hard, trust yourself, trust your colleagues, and hope for a little magic along the way. Each day, I spend the majority of my time recruiting and hiring people who have the talent to take Kinney Group to the next level. I get to see the tangible impact of that work when we're able to secure a new contract or increase our service to clients—that's inspiring. That is something that drives me to better myself and have detailed discussions with those around me so that I'm able to find new colleagues who will add to our team.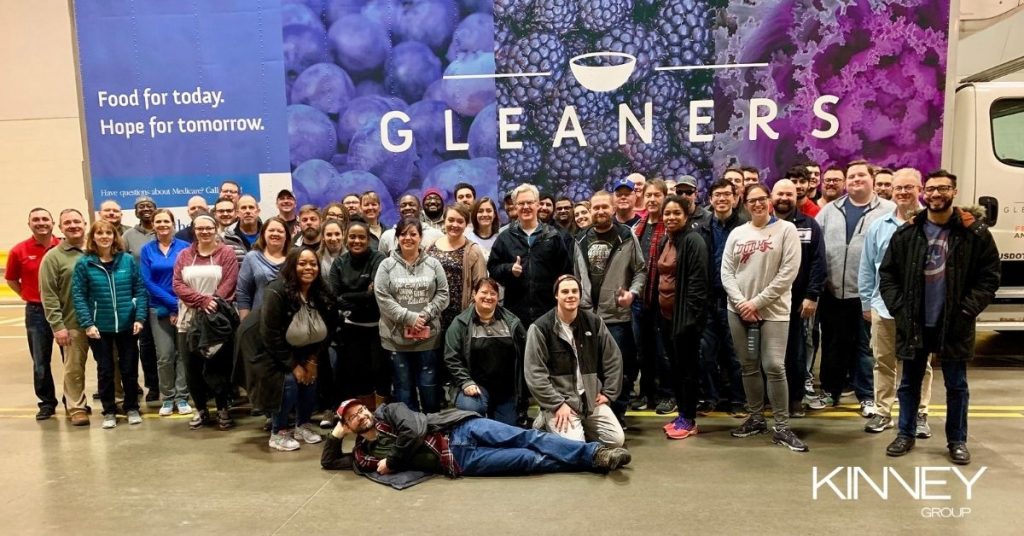 At Kinney Group, every new engineer we hire brings his or her very own skill set and knowledge of different techniques to the table. In a world where the tools at your fingertips are continually being created and updated, staying relevant is vital. So it's wonderful to see our talented and supportive team work to keep each other on their toes.
The "Non-Work" Times
Don't worry, we have some fun too. I may lose a friendly game of euchre more than I win, but everyone is always a good sport. I can't even begin to touch on the elaborate theories that came up during our weekly Game of Thrones recap meetings, where I was always having to defend why Bran is not the Knight King. And when the whole company comes together at the beginning of the year for our annual Kick-Off meeting, it's a grand celebration of our work and each other.

Big Tech Skills, Small Company Vibe
Working at a small company has its perks, including wearing a lot of different hats. Some days I may be wearing my "culture and engagement" hat, and other days I may be wearing my "benefits and administration" hat. Some days I may be wearing my "trusted advisor" hat (AKA: "I'm going to google that this evening and get back to you tomorrow" hat). If I'm lucky, I may wear all those hats even before I go to lunch.
The best part about being a smaller firm is that everyone at Kinney Group is consistently getting pushed out of our comfort zones and is encouraged to try new things. In the past two weeks, I was able to attend a regional hiring and culture conference, make changes to our company-wide communication policy, attend a TechPoint summer engagement breakfast, and do some research on new vendors that pair with our Applicant Tracking System. This is all while hiring new colleagues and working towards my quarterly goals.
Charting Your Course at Kinney Group
At Kinney Group, your journey is up to you. The trick to staying relevant is reading different blog posts like this one from your fellow employees, watching our engineering team's webinars, and taking part in our many employee functions, such as our annual Indianapolis 500 Carb Day celebration… Above all else, fine ways to challenge yourself every day and know that no matter what, you can find a group of people you can be yourself around here.
If this sounds like a work culture you'd like to join, consider exploring our Careers Page to see if Kinney Group could be the place for you.
About Kinney Group
Kinney Group is a solutions-oriented professional services consulting firm specializing in automation and analytics to harness the power of IT in the cloud to improve lives. Security is in Kinney Group's DNA, enabling the company to integrate the most advanced automation, analytics, and infrastructure technologies as an optimized solution powering IT-driven mission and business processes in the cloud for federal agencies and Fortune 1000 companies.
We are an elite team with a unique combination of credentials for strict security environments who serve our customers with an unexpected experience. We specialize in Splunk, AppDynamics, Puppet, and VMware to serve our customers as they journey through digital transformation. Learn more at kinneygroup.com.