There is immense power built within the Splunk data center model. However, with great power comes even greater complexity. The traditional model is difficult to scale for performance, and Splunk teams already working against license costs are constantly faced with performance issues.
We know your teams have more to do with their time, and your organization has better ways to spend their budget.
With Atlas's Reference Designs, we've found a better path forward.
Background
The Atlas Reference Designs provide a blueprint for modern data center architecture. Each provides blazing-fast performance increases and reduces indexer requirements, leading to a lower cost of ownership for your environment. Our Reference Designs are built to remove any friction caused by building and deploying your Splunk environment, serving all Splunk customers. Whether you're running Splunk on-prem, in a hybrid fashion, or in the cloud, Atlas's Reference Designs provide you with a simplified and proven solution to scaling your environment. 
There is a common problem that every organization faces with Splunk: ingesting data effectively.
The Atlas Reference Designs present you with a solution that pairs the Splunk Validated Architectures with the needed hardware or environment in order to deliver proven performance results.
Our first set of Reference Designs were built for on-prem Splunk instances in partnership with Pure Storage, a leader in the enterprise platform and primary storage world. Check out Pure Storage's many nods in the Gartner Magic Quadrant for their innovative solutions.
With the matched power of Pure Storage with Kinney Group's Splunk solutions, we've been able to decrease the indexers needed through Pure's speed and increased IO on the back end—and we have the tested results to prove it.
Proven Results
Splunk recommends that for every 100 GB you ingest, you create at least one indexer. Let's look at a real-world example delivered by the Atlas team: a company is ingesting 2 TB/day in Splunk—based on Splunk's recommendations, this company relied on 20 indexers.
By applying the Atlas Reference Design, we were able to reduce that physical indexer count to just five indexers. This significantly reduces the cost of owning Splunk while increasing performance by ten times.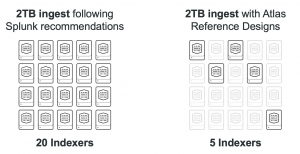 For those who invest in Splunk infrastructure on-prem, this means huge savings. Think of the costs that 20 indexers entail versus five—the cost savings are huge. Then factor in the impact of reducing the exhausting manual hours spent on Splunk to just a few minutes of human interactions.
Conclusion
To sum it up, we took an incredibly complex design and made it shockingly easy. Through automation and the great minds behind Atlas, your Splunk deployments can now launch with the push of a button, less time and fewer resources, and guaranteed results. The Atlas Reference Designs are built for all customers, with many releases to come; get in touch using the form below to inquire about our other Reference Designs.