Part of the reason I was excited to join Kinney Group was the company culture. In particular, I most related to our Customer Centric core value.
For over half of my life, and starting at age 14, I've worked in restaurants. So for me, providing great guest service is in my blood. That's not to say that it's "easy" by any means, but that the gratification of having a direct impact on a guest's experience and seeing their delight is a huge motivator.
As I grew and evolved into different roles within the industry, I began to interview candidates to add to my team. No matter what role I was interviewing for, I always started by asking the same question: What does great customer service mean to you?
The answer to that question can really tell you a lot about a candidate—and for as many quality answers as there are, there's an equal number of crazy, off-the-wall answers. (Trust me!)
Over time, I've crafted my own answer to "What does great customer service mean to me?" Simply put, it's getting customers what they want, when they want it, in a polite manner.
Being Customer Centric is about providing quality customer service at every point of the sales and service process. This is in our blood as Choppers at Kinney Group.
Getting customers what they want…
I can recall times in my career when guests know exactly what they want, and it's up to me and my team to execute and provide. But it's also a really exciting opportunity for me when I can help a guest figure out what they want. Maybe they're open to trying something new? Maybe another product or service would better meet their needs? It's an opportunity to showcase knowledge and expertise, and when you do that—you build trust.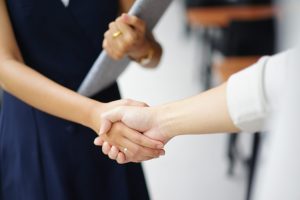 We're all customers at one point or another. And I know that for myself, it's way easier to do business with someone that I trust. Trust means that I feel that a service provider has my best interest in mind.
…when they want it…
In business, timing is everything. Great customer service providers will understand when a customer wants a product or service delivered. Most of the time in my career, the timing is simply "now" or "as fast as you can," but it's important for the service provider to understand that. Have you ever dined out and received your entrée, and then your appetizer, and then your drink? Simply delivering the product or service is really only half of the experience. Building a great experience with a customer by understanding their timing—that builds trust.
…in a polite manner.
I can think of a number of people who are really good at what they do, but I will sometimes settle for less only because I don't want to deal with them. Or maybe I reserve dealing with that person for certain issues. Being approachable and kind, combined with a can-do attitude, is the cherry on top of a great experience. One of my favorite quotes ever is from Maya Angelou: "People will forget what you said, people will forget what you did, but people will never forget how you made them feel." In essence, don't be a Richard!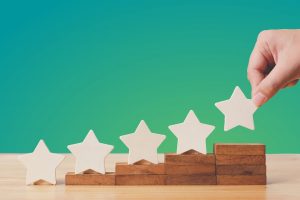 Here at Kinney Group, we're laser-focused on customer-centricity. Our team spends a great deal of time understanding the three returns on investment (mission, human and financial) for our customers. We want to understand what their end goal looks like for using our services, on a timetable that works for them. And finally, we have great people that do great work! It is very satisfying to see feedback come in from a customer explaining how much they enjoyed working with our engineers.
Join Our Team!
It's very rewarding for me to work for a company that recognizes the true importance of building trust with customers by providing a quality experience. If you excel at delivering what customers want, when they want it, in a polite manner—consider joining our team! A position at Kinney Group is an investment in your career. See a list of our current openings and apply online.