Billy goat: a notoriously determined and adaptable animal that will always find a way to overcome challenging obstacles, in the wild or around the farm. No fence will keep a goat from getting to a tasty treat it spies on the other side. This versatile creature isn't afraid of the occasional headbutt when a challenge arises. For these reasons, the billy goat is the spirit animal of our colleague, Chris Lee.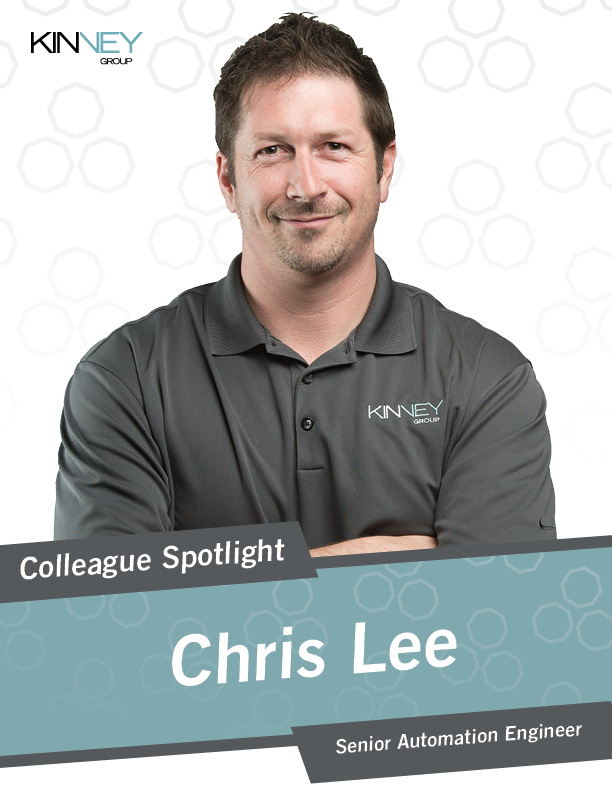 Chris Lee, resident billy goat and Senior Automation Engineer.
Serving as Kinney Group's talented Senior Automation Engineer, he is known to be proactive, precise, and someone who works tirelessly to automate and improve the build process, internally and for our clients. Colleagues say not only is he fun to work with, but he's a trustworthy team member who has great field experience, which has readied him to be such an exceptional engineer.
The Inspiration: a Childhood Board Game Called Mouse Trap
Holding a degree from Purdue in Computer and Information Technology (with a security focus), Chris began his career doing scripting work as a Junior Developer. However, his skills evolved and he gained engineering experience on both sides of the house, "back" to the "front". This has given him unique, holistic understanding of the entire Software Development Lifecycle. This practical knowledge resulted in him being the go-to-guy for automating systems, servicing, and connecting development to production.
With that, Chris found his niche, and as opposed to other engineering roles involving development, operations, or administration, he came to love interconnecting systems through automated solutions by using complementary technologies. Believe it or not, Chris states that his interest in automation stems all the way back to his childhood roots.
Looking back, one of his favorite games as a kid was Mouse Trap. You know, the 1963, 4-person board game in which the team works together to build a working, interconnected contraption. This masterfully orchestrated system has a singular goal: to catch the mouse. Essentially, automation and Continuous Integration/ Continuous Development (CI/CD) work in a similar manner to the board game because the engineering team has to use a variety of tools to create a single continuous system that accomplishes a solution.
The Journey: How Chris Lee Became an Automation Wizard
Before Chris joined Kinney Group as a Senior Engineer three years ago, he had varied IT experience through two other companies. At Interactions Corporation in 2006, Chris started as a Junior Developer, and he supported the creation of a Quality Assurance department, and then helped launch the automation of production deployments. In 2008, he joined Angie's List as a Build and Release engineer, which converted into a Senior DevOps role allowing him to work with each team in the engineering department. He was the sole DevOps engineer until the department grew to around sixty engineers, each holding specializations in QA, DBA, and Ops.
In 2013 he joined at Kinney Group. Today, his responsibilities are heavily focused on Automation and Virtualization, all centering around Secure Private Cloud and Converged Infrastructure capabilities. He also utilizes automation for DevOps and security work.
Chris thrives in the satisfaction of overcoming challenging tasks and projects because it affords him the opportunity to learn and stay stimulated. Furthermore, the complexity of his work conveniently requires him to leverage the most cutting-edge technology platforms and most forward-leaning techniques to excel. Kinney Group tends to offer compelling work across the board, including for our tech-hungry engineers.
Over his years as a colleague, our beloved "billy goat" genuinely feels the phrase "Family First" is engrained in Kinney Group culture. When it comes to our work-life balance, Chris believes it is adaptable to any given situation. When he is insanely focused on a project he will take his work home with him, but otherwise Chris feels it is easy to detach and just enjoy being with his family at the end of the day.
Our Resident Billy Goat is a Lifelong Learner
Like a fortune teller looking into his crystal ball, Chris sees Kinney Group's future: top talent, larger than life market opportunities, a global presence, and… a kegerator just for engineering. Because engineers love beer. It's brain fuel.
All of his knowledge and unique skills gained throughout his career have made him an incredible colleague to have on the team. Chris is a great guy with tough, focused perseverance like the billy goat. We know he will just keep munching away in order to find a new patch of "grass-like opportunities" in his hunger for lifelong learning and his love for technology.
Kinney Group Quick-fire:
Where is your favorite place to visit in Indianapolis? Mass Ave. Look no further because it has the nightlife and great food while still being close to downtown.
What are your top restaurants to go to in Indianapolis? I highly recommend Bru Burger, Bakersfield, and Union 50.
Describe Kinney Group's culture in three words. Progressive. Family. Opportunity.
Want to work at Kinney Group? Check out our careers page to see job postings.